Rev. Mitch Becker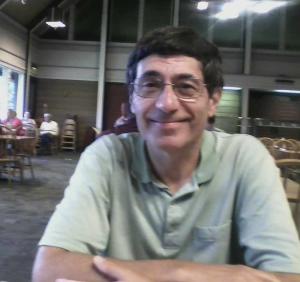 Pastor Mitch is a seasoned pastor with more than thirty years experience as an ordained Disciples of Christ minister. He was born in Tillamook, Oregon the land of cheese, trees, and ocean breeze! He was raised in the Pacific Northwest, and at age 28 left for seminary training. He attended the Pacific School of Religion, and in the year of his graduation was called to his first pastorate in Bakersfield, California. After serving there Pastor Mitch served five other congregations in California, Washington, and Ohio. First Christian Church of Port Angeles is the seventh congregation which he has been called to serve.
Pastor Mitch comes with a strong sense of commitment to the gospel of Jesus Christ, and tries to share the compassion of God with his church, and the surrounding community. He also has a deep commitment to the daily practice of quiet, centering prayer. His goal is to spend at least forty minutes a day in quiet contemplation. It is from this experience of sacred silence, along with his relationships within the congregation that he knows the love of God. These relationships include the counsel of the church elders and fellowship with his parishioners. This love guides and determines the course of his ministry.
Though he holds no particular vision for the future of First Christian Church of Port Angeles, he does trust in the guidance of the Holy Spirit through contemplation, and those around him, to be led into God's unfolding plan for the church. He welcomes any and all people seeking a deeper, more meaningful spiritual life, and a desire to grow closer to our Lord. He believes that, along with his congregation, he has been called to help finish the work Jesus began so long ago in bringing in the kingdom of God. In this sacred calling he attempts to reflect God's compassion and care for all God's children.
Pastor Mitch gives thanks to God for his marriage of 19 years to his beautiful wife Karen, and together they have 5 wonderful grandchildren, and 2 beloved pets Oreo and Groucho (because of his eyebrows).