The First Christian Church of Port Angeles, Washington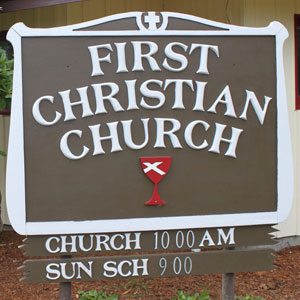 Our Disciples of Christ congregation, known here as First Christian Church, is located at the corner of Park and Race Streets in Port Angeles, WA. In fact our building is just across the street from the Olympic National Park Visitor's Center on the way up to Hurricane Ridge.
We are an eclectic group of about 35 faithful followers of Jesus' way, mostly older and active in service to our ecclesia and our broader communities. We are somewhat progressive in theology and definitely open and affirming of all who will join us. Our constant hope is that we live the love and acceptance shown to us through Jesus by offering that grace to others.
Ours is a wonderful place to visit and to call "home." Port Angeles is a beautiful little city nestled at the base of the Olympic Mountains and looking out onto the Strait of Juan de Fuca. We can often see the lights of Victoria, BC at night. Our Coho Ferry runs to Vancouver Island and back several times a day, turning the 18 mile international journey into a dream excursion.
Originally built by the lumber industry, we now have an international airport, a vibrant and growing community college, a strong and growing medical system and hospital, and a healthy school system. Other industry in the area includes a paper mill, yacht building, ship repair, fishing, and a new composites factory. We also value our wonderful fire department, senior center, and U.S. Coast Guard base.
The greater Port Angeles area is a famous and lucious tourist and wedding destination and home to many recreational opportunities. Kayaking, downhill biking, camping, skiing, hiking, bird watching, and fishing are just a few of the ways people spend time in our area.
While Port Angeles is a wonderful place to make a life, our congregation is one of the things that makes it wonderful. Although we are not very entertainment oriented or fancy, we are strong in the faith and mission. Our building is modest and our gifts rich. We wrestle honestly with the wuestions facing our culture, always looking for ways to confront injustice, show mercy, and nurture unselfishness.
We are a supportive circle of friends seeking to welcome new friends and following Jesus. We find our way through many sorts of prayer and study, through appreciation of struggle and Scripture, and by relying on Jesus and one another in faith.